Altar Guild

Most gracious Father Who has called me Your child to serve in the preparation of Your Altar so that it may be a suitable place for the offering of Your Body and Blood: Sanctify my life and consecrate my hands so that I may worthily handle those Sacred Gifts which are being offered to You. As I handle holy things, grant that my whole life may be illuminated and blessed by You, in whose honor I prepare them, and grant that the people who shall be blessed by their use, may find their lives drawn closer to Him Whose Body and Blood is our hope and our strength, Jesus Christ our Lord. AMEN.


by The Rt. Rev. E. Don Taylor, Vicar Bishop of New York City

The National Altar Guild Association Prayer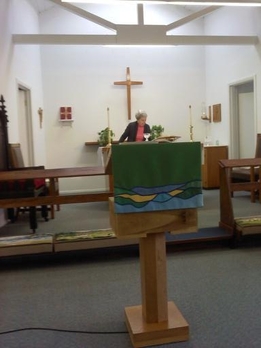 The Altar Guild is made up of parishioners, who are commissioned by the rector to set up the sanctuary for every service.
Traditionally it has always been women, but men are beginning to join now in some churches. Just as one would bring out the fine china and silver for special guests, it is the duty of the Altar Guild to set the table for the feast.
The members make up the quiet, "behind the scenes" ministry that reverently and lovingly polishes the silver, irons the linens, tends the clergy vestments, sets out the elements and arranges the flowers.
And, just like after the feast, the Altar Guild cleans and stores the vessels and linens again.
They follow the traditional practices passed down from member to member of the church.
They need to know the correct colors to use, the names of the vessels and linens, and how they are to be arranged.
Their commitment adds to their spiritual growth and a renewed understanding of God's place in their lives.
---