Hi Everyone.
Here are your updates for this week.
Sunday, October 2nd
: 1 service at 9:30 am.
WE WILL BE COLLECTING CONTRIBUTIONS TO BISHOP MARY'S DISCRETIONARY FUND,
the envelopes for which will be in your bulletins. Also, Last Chance Food Sunday. Birthday festivities at coffee hour. And, after the service and before our 11:15 am Blessing of the Animals, Donna Ross will be in the Library/Chapel to introduce her new church banners to anyone who would like to preview them.
At 11:15 am, the Blessing of the Animals
will be held in the lower parking area, so, if you park there but do not plan to attend the blessing, please plan to move your car before the Blessing starts, or after it has concluded, for the safety of the animals and pedestrians participating.
Best Wishes to those with October birthdays:
Louise Windisch, Jane Mettee, Barbara Dallmann, Rob Ross, Karen Pearson, Allyson Dallmann, Mary Brockman, Betty Pierce, Georgia Spelts and Dan Field.
Many thanks to those whose help made the Bishop's visit here so enjoyable and successful.
From bulletin folders, Altar Guild members and service volunteers, to those who helped with photography and the reception…MANY THANKS!
Oct 30- All Saints Day.
Services at 8 am and 10:30 am. Please submit names or/and photos in free standing frames
by Oct 23rd.
​
Altar Guild- please note;
on October 30 we will use the lectionary selections for November 6, and on November 6, we will use the selections for October 30th.
-Annual Pie Social- November 6.
Yum!
-Next week's scriptures for Bible study:
2 Kings 5:1-3, 7-15c, 2 Timothy 2:8-15,
Luke 17:11-19
Holy Cow!
Our scarecrow is made possible by Scare Crew members Ann Glaser and Anne Harris Smith. Thank you, Ladies!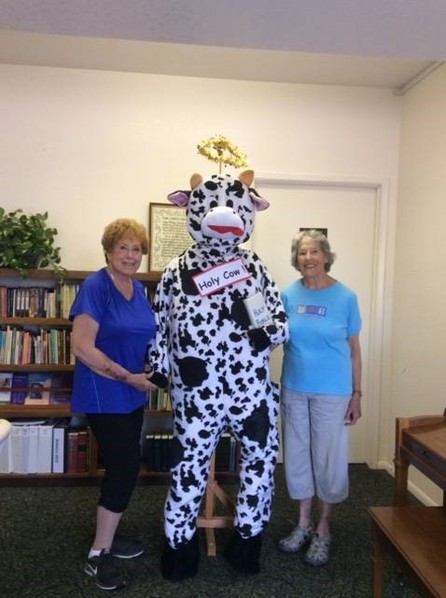 Michelle Costa
Parish Administrator
St. Paul's Episcopal Church
805.927.3239

---