"Faith Inspires Cambria Magic"
The Making of a Scarecrow

by Ann Glaser and Anne Harris-Smith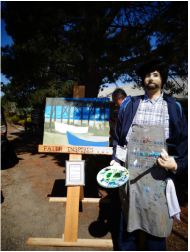 An artist's apron, a magical theme and unusual coincidences inspired our choice for a Scarecrow.

When Michelle asked for persons interested in making a scarecrow for St. Paul's, I responded, saying I was willing to help. When I found Walt's painting apron, that sparked the idea for an artist. I had bought the apron on one of my business trips because Walt was a left-handed painter. The apron says, "The left side of the body is controlled by the right side of the brain. Therefore, only left-handers are in their right minds". Walt always wore the apron when he painted.
---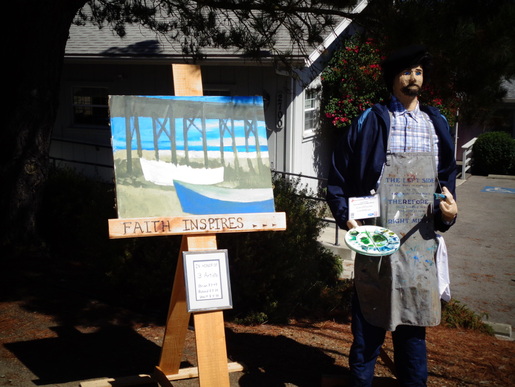 ---
When Michelle said the theme needed to incorporate "whimsical" in the title, I thought of the idea that "Faith inspires magical art". I was thinking of famous artists of the past who portrayed incredible sacred themes - - think Michelangelo and the Sistine Chapel.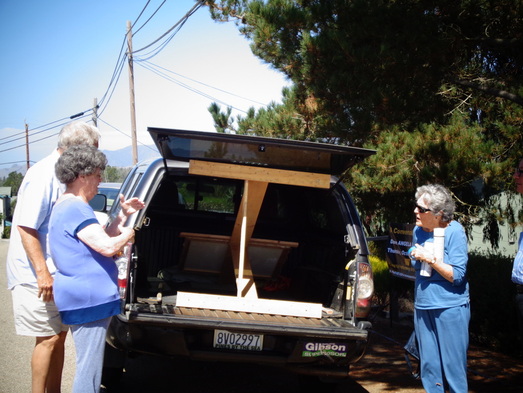 Then Anne Harris Smith joined the project. She had recent experience making scarecrows, and she liked the idea of an artist. Michelle gave us the previous year's St Paul's scarecrow to get us started. We used some of it as a base, but wanted to develop our own character.
---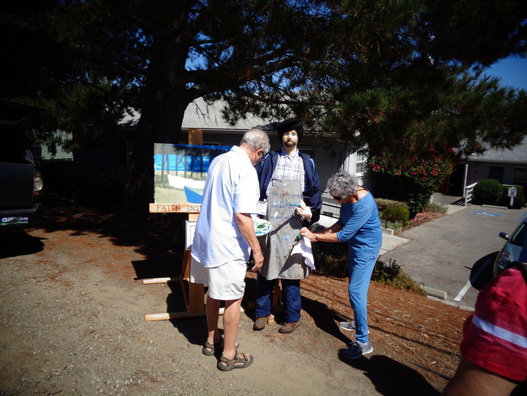 As we worked together we discovered that our recently deceased husbands had several commonalities. Both were artists born in Southern California, both were professional artists who worked in the teaching profession. Walt was hired to start an Art Department at Cal Poly, Pomona, where he was a Professor of Art for 30 years. Richard was Head of the Fine Arts Department at Estancia High School in Costa Mesa and taught Drawing at Orange Coast Jr. College for 30 years. Then we realized they shared the same birthday, August 3rd.
---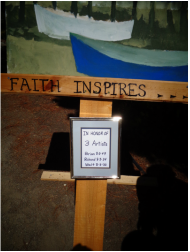 We learned that Fr. Brian is an artist, a left-handed artist, when he hosted a gathering for the Choir and the Altar Guild just after Easter. Late in July we learned that he has an August 3rd birthday just like Richard and Walt. Such amazing coincidences. He certainly belongs in Cambria where "Faith Inspires Cambria Magic," the official title of St. Paul's Scarecrow.
---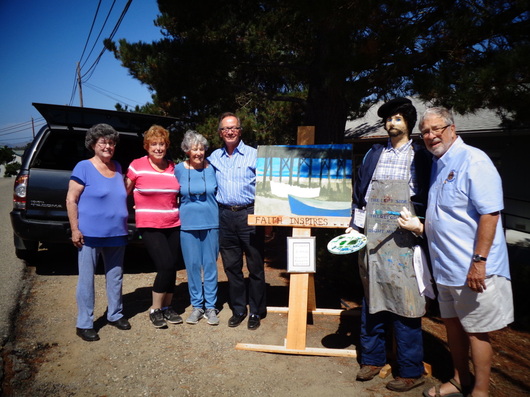 ---
We wish to give special thanks to some people who helped us: Michelle Costa, Judy Olson, Laurel Lupo (Anne's niece), David Wesner (a builder friend of Ann's who made the easel), Jim Wilson and Leonard Kohout. Thanks to Brian Palmer for his enthusiastic support of the project.

Ann and Anne




...and now you know the rest of the story!!!